AUTHORITIES INVESTIGATE HILLSBOROUGH WORKPLACE FATALITY
Image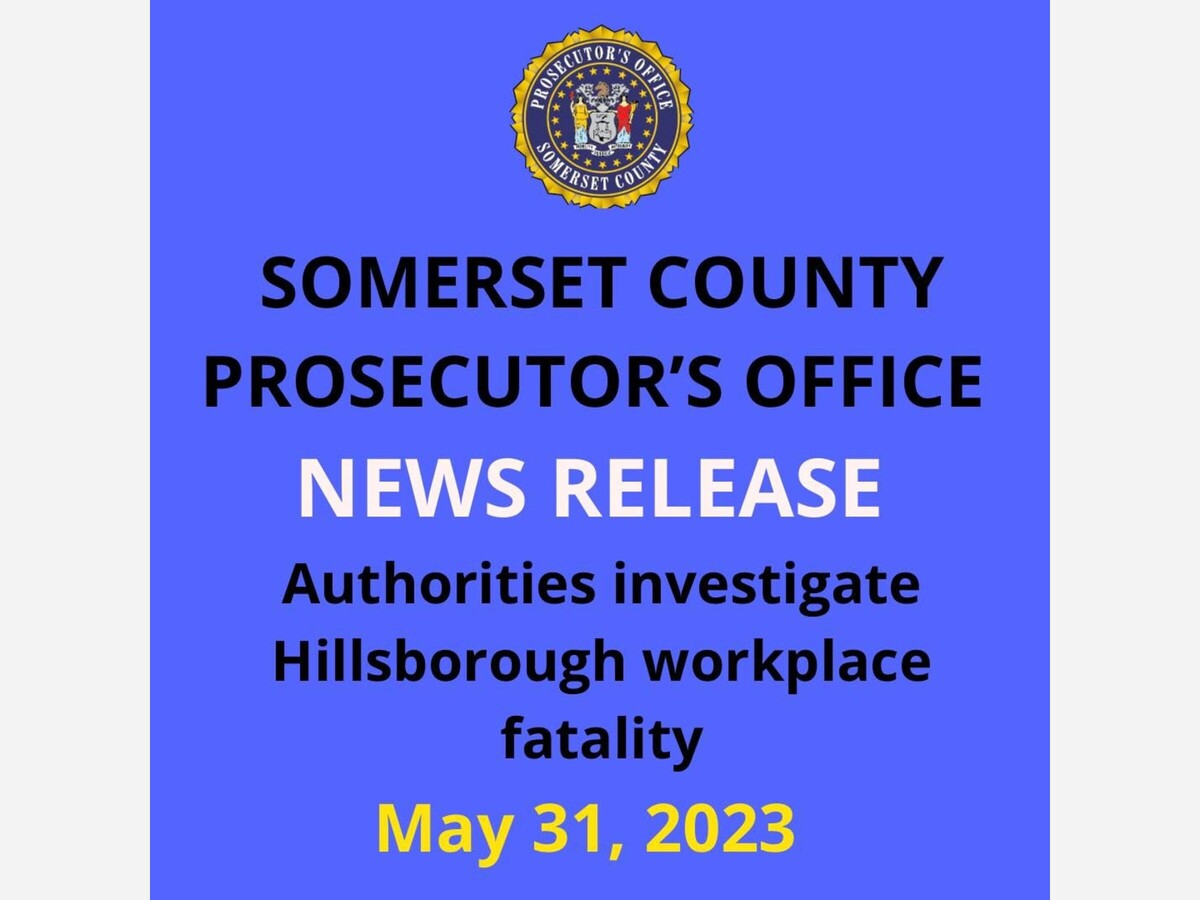 NEWS RELEASE
AUTHORITIES INVESTIGATE HILLSBOROUGH WORKPLACE FATALITY HILLSBOROUGH, N.J. – Somerset County Prosecutor John P. McDonald, Somerset County Prosecutor's Office Chief of County Detectives John W. Fodor, and Hillsborough Township Chief of Police Michael McMahon announced an on-going workplace fatality in Hillsborough, New Jersey.
Prosecutor McDonald stated that on Wednesday, May 31, 2023, at approximately 7:27 a.m., Somerset County Communications Center received a 9-1-1 call reporting a worksite accident on Willow Road, Hillsborough, New Jersey involving heavy machinery. Responding Hillsborough Township Officers located a deceased male upon arrival. 
No life-saving measures could be made due to the severity of the injuries sustained. Prosecutor McDonald stated that detectives from the Hillsborough Township Police Department along with the Somerset County Prosecutor's Office Major Crimes Unit, the Crime Scene Investigation Unit, the New Jersey Northern Regional Medical Examiner's Office, and the Occupational Safety and Health Administration (OSHA) Safety and Compliance Enforcement Officer responded to the scene to investigate. Authorities identify the decedent as a 62 year-old male, Ocean County resident. 
The name of the decedent is not being released pending all required notifications. The Medical Examiner will perform a postmortem examination to determine the cause and manner of death. A preliminary investigation has revealed that the death was a workplace accident. The investigation remains ongoing.
Prosecutor McDonald, Chief Fodor, and Chief McMahon request anyone with information relating to this investigation to contact the Somerset County Prosecutors Office Major Crimes Unit at (908) 231-7100 or the Hillsborough Township Police Department at (908) 369-4323 or via the STOPit app. The STOPit app allows citizens to provide anonymous reports including videos and photos. STOPit can be downloaded to your smartphone for free at the Google Play Store or Apple App Store, access code: SOMERSETNJ. Information can also be provided through the Somerset County Crime Stoppers Tip Line at 1-888-577-TIPS (8477). All anonymous STOPit reports, and Crime Stoppers tips will be kept confidential. NOTE: The following information is based on a preliminary and ongoing investigation, which continues to evolve as investigators interview witnesses, review physical and electronic records, and analyze forensic evidence. The Somerset County Prosecutor's Office's understanding of the facts and circumstances may change as additional evidence is collected and analyzed.