Raritan Library December Activities for Families During the Holidays
Image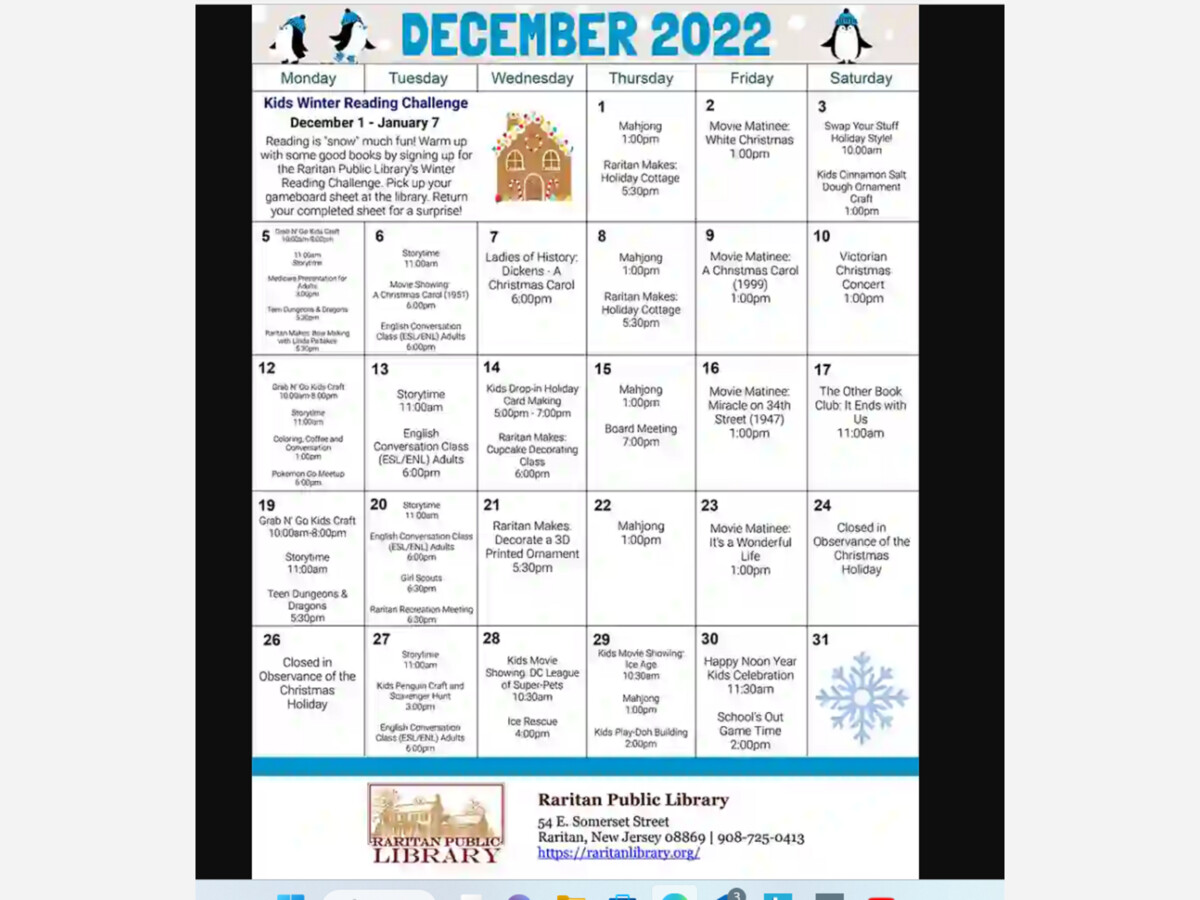 54 E Somerset Street Raritan, NJ 08869
Tel: (908) 725-0413  /info@raritanlibrary.org
Swap Your Stuff Holiday Style! In-Person
Would you like to change out some of your holiday decor, add to your collection or give away what you can't use anymore? Whichever your circumstances, whether you want to donate your extra holiday decorations and seasonal craft supplies, or acquire some new things, this is the event for you!
Donations will be accepted Monday November 28 to Friday December 2. All items must be intact, in good condition, and no larger than two feet square. Only holiday items and seasonal craft supplies will be accepted. No trees please. All items must be brought to the circulation desk. Each donor will receive a ticket for Saturday's Early Bird Browsing.
Saturday 9:30 am to 10:00 am - Early Bird Browsing open to everyone who donated.
Saturday 10:00 am to 12:00 pm - Everyone is welcome to browse and take anything they can use! Hot beverages will be served.
=============
Victorian Christmas Concert In-Person
Join Anne and Ridley for a joyful celebration of Christmas past, with special emphasis on the Victorian Christmas traditions–Christmas trees, carols, cards, and more. Accompanied with fiddle, dulcimer, and harmony vocals. Join in singing some of your favorite holiday songs and learn about the surprising history of one of our most popular holidays.
English Conversation Class (ESL/ENL) - Adults In-Person
Practice your English speaking skills without stress.
This class uses interesting topics and fun activities to improve pronunciation, increase fluency, and introduce new vocabulary.
Participants must have a working understanding of English.
Practica tus habilidades para hablar inglés sin estrés.
Esta clase utiliza temas interesantes y actividades divertidas para mejorar la pronunciación, aumentar la fluidez e introducir nuevo vocabulario.
Sanayin ang iyong mga kasanayan sa pagsasalita ng Ingles nang walang stress.
Gumagamit ang klase na ito ng mga kawili-wiling paksa at nakakatuwang aktibidad upang mapabuti ang pagbigkas, pataasin ang katatasan, at ipakilala ang bagong bokabularyo.